In this 3rd installment of documenting repair, of course, magic happened. It does every time I don my Photography Dancer! head dress and beat out the drums and bring it to the streets, the rain dance, calling all movers, which is all of us, lets bring the rain. The two most gorgeous dance sisters a woman could possibly want, hopped the concrete barrier and entered the seemingly war-torn environment that i chose to be our dance floor. As i said before, these New Orleans houses, buildings, structures in their various states of restoration or alternately disrepair, are my visual metaphor reflecting my own current state of repair and this past 3 weeks have been an apocalyptic doozy to say the least. So, being an extremist, I decided to choose the most explosive backdrop I could find in this fair city to bring the dance out, to let loose the broken bits, and channel the dance love fest thats a whole lot more interesting then staying sad or stuck. The dance sisters came, we laughed and boogied through the rocks and pain, and yes, we brought the sweet rain.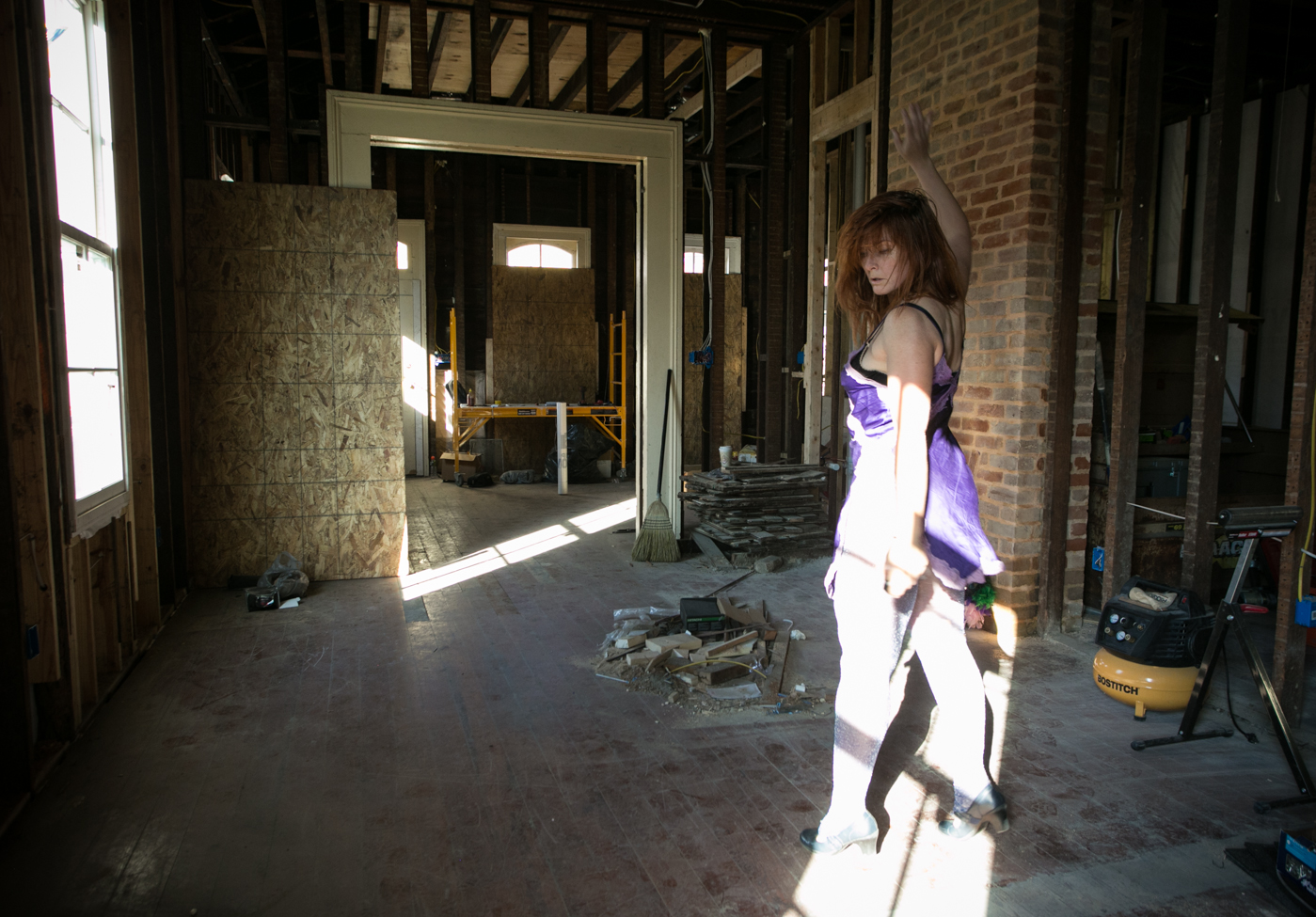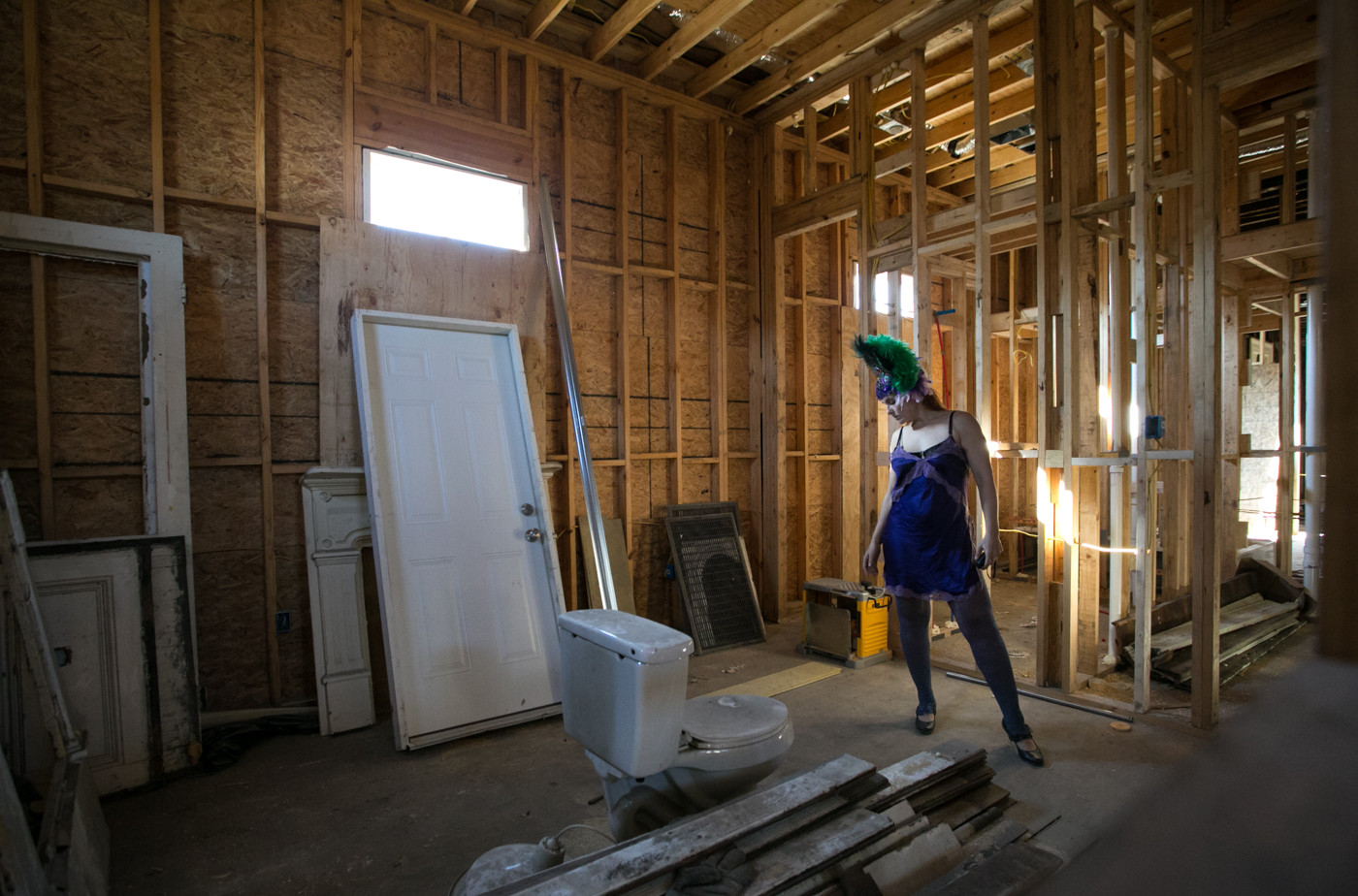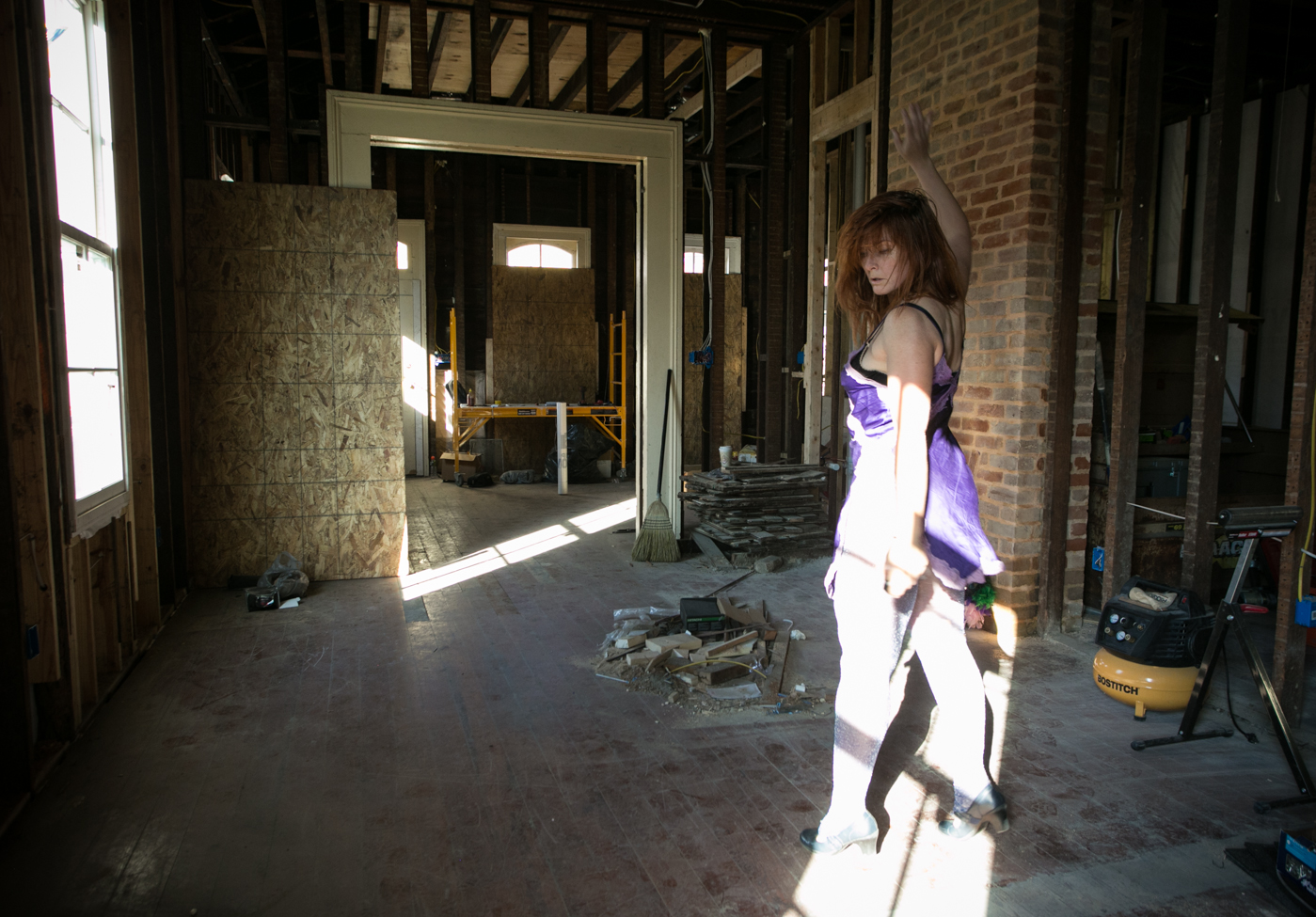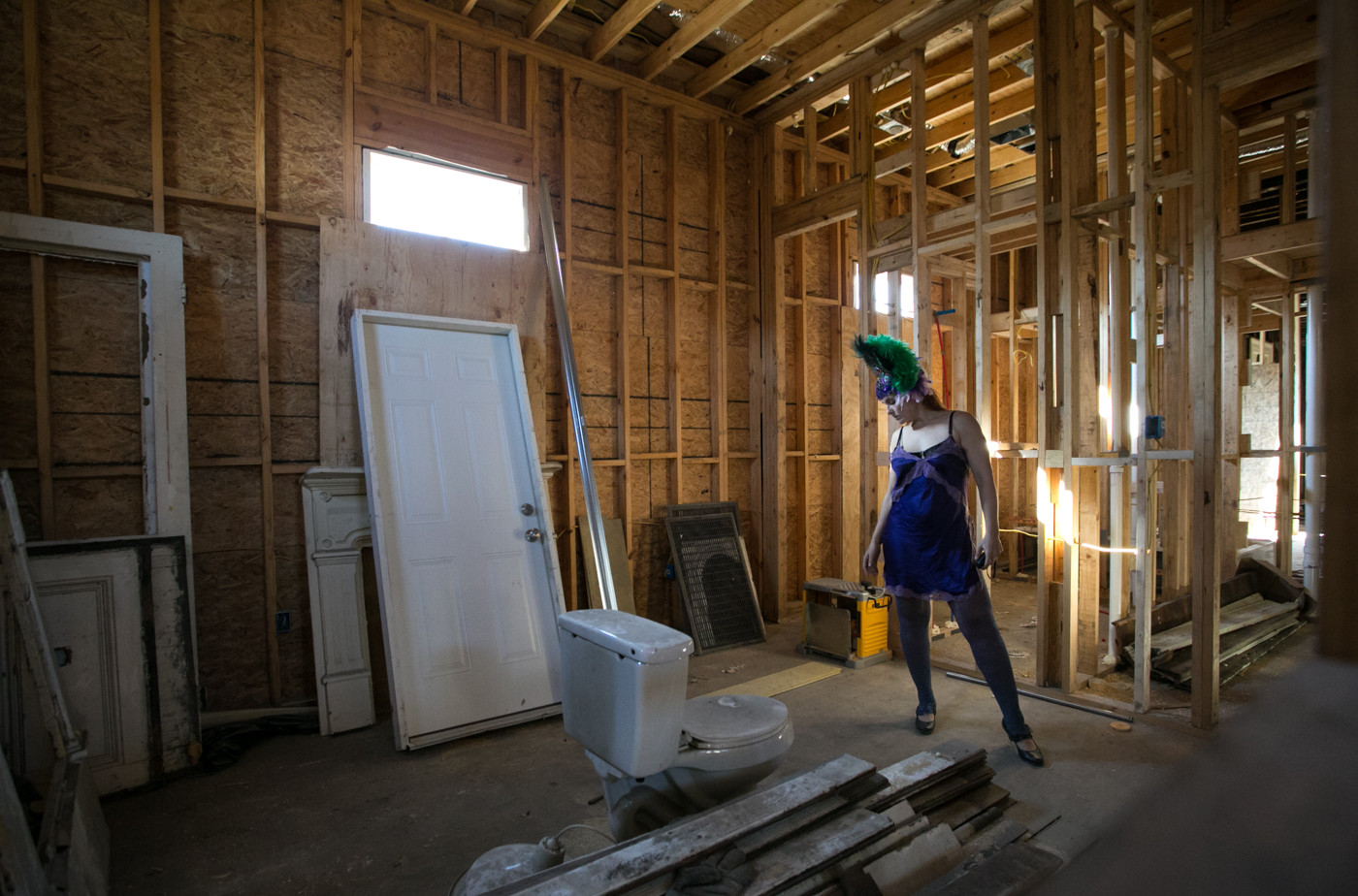 2ND INSTALLATION FROM NEXT STOP, NEW ORLEANS - St. Anthony
In this second exploration of spotlighting my body and highlighting all the good and the hard repair work i'm engaged in, the first thing i did was forget my knee braces. Its 8a, the light is beautiful, i'm inside the skeleton and framework of a friends house that he is renovating- apt metaphor no? - and i get into my groove and start to move. After a minute, i realize i feel a little unsteady, a little weak literally in the knees. Looking down, no braces, dummy! Not safe! I laugh at myself after the freeze frame and continue to dance. I'm in the heart of it now and i can't ever turn my back on the beat once I've engaged, not matter that I'm cracked and redoing my foundation, its time to dance and there is ice for later and hopefully I won't get swept away to the point of doing deep knee bends. The House, inside. My House, renovation. Wood and Bones and Wires, Tendons and Cartilage. Rebuild.
Wounded Photography Dancer! Next Stop, New Orleans
Introducing the new phase of my project, Photography Dancer!
I've recently hightailed out of NYC ahead of the winter storms and relocated to New Orleans for an extended sabbatical, the weather's just fine thanks. Before i left NY, i was doing a series with PD! called NY Come Dance With Me which was glorious but cut short from my original intention due to injury. Basically, i blew out my knees through dancing like the whirling dervish, to the point that by the time i left NY, i couldn't dance at all. To a dancing queen like myself, that was basically the absolutely worse thing that could happen and i curled up, kept quiet about it, continued to wrap up my NY life, and then i split.
I am sharing this with you all under the sage advice that as an artist and when you feel at your most vulnerable, that is where and when you dig deep, create, and present the work. The hard work, the deep work, the artist when she feels weak and without her chosen identity. This is the time that you do not hide and wait until you are bright and strong again, this is the time that you shine a spotlight on your perceived weakness and highlight the repair.
We have all been here, i am not unique in this happening. I am an artist and it is my job to mirror truth in the shared human experience.
So i begin here, with this. The first steps, lets dance.
I've begun to dance again. Slower, more thoughtful, but dance.
This new phase is called Wounded Photography Dancer! its simple, i go out and dance on the streets of NOLA and document myself and whoever i am blessed with wanting to join me on that given day. I will be hopefully joined by the absolutely amazing musician community that i am saturated with down here, i have been so far and i love the live music accompaniment more than anything.
I am using the New Orleans architecture as a narrative through line. Down here, its music and houses that shapes this city's identity. Katrina laid this town flat and it is music and love of its gorgeous jewel houses, its painted ladies, that is steering this city towards abundance. New Orleans still has work to do in putting itself back together, but it is tenacious and relentless in putting its best foot forward and i find that inspiring and a perfect environment for me to find myself as i heal. So, i am using the houses as backdrops for my dancing. The houses that are in disrepair, the houses that need work, the houses that the storm and time almost destroyed, the houses that are coming back to a new glory. This is a metaphor and the connection to my new home, the place i came to heal and take my work into the wider world.
Thank you for reading this and engaging in my work, i hope you enjoy this journey with me.
Photography Dancer! sez Come Dance With Me NY!
Photography Dancer! is soon to relocating to New Orleans most definitely for the winter and spring and perhaps indefinitely, so - Come Dance With Me! this is my epic swan song last dance i love you to the moon lets shake out butts together NY street performance getdown and here's a photo to show it all really happened and i love you, Photography Dancer! style of course.
Photography Dancer! the moments/beats before, between, and tomorrow - oh Dance, Little Sisters and Brothers, Dance! Lets go back to the beginning, lets get lost...
Capturing the motion for a split second and holding it there before it wriggles loose, transformed, laughing.
sarabrown is Photography Dancer! Lights Camera Action, etc.
Photography Dancer! is sarabrown's current creative obsession where her action of dance and performance co-exists with her action of photography, like chocolate and peanut butter.
Photography = I observe, I look, I mark the moment and let it go. I anticipate the next moment and am ready to butterfly catch it with my camera.
Dancer = This is what I do, this is how I move. I don't think, i only respond to heartbeats, mine and every other on the planet, it beats in my blood, it beats in my feet.
! = This combination makes me very excited! This combination exists in a structure of a camera on a tripod connected to a dancer who responds to a musician that compels her to move her feet with a wireless remote in her hand that triggers a movement being captured and delivered to a computer that processes the image and projects it to the wall behind the dancer that holds the tension between the action that just happened and what is now, actually happening.
It is writing with both hands at the same time, patting your head head and rubbing your stomach, left brain right brain simultaneously. An observation and participation hybrid.
Photography Dancer! is composed of both solitary and communal action, the individualistic photographic medium coming together with the primal group participation of dance. In joining the group, the loner has finally, fully arrived to the party of life.
The project of Photography Dancer! is one of joy and celebration. Celebration of a person or a specific group and the inclusion and celebration of the community that surrounds these people. Through the joy and inclusion of dance and the simultaneous documentation of that action, a mirror is created reflecting the connectivity of movement and the heartbeat. We all see and share the delight of setting ourselves free through dance and the unity created in that moment.
Photography Dancer! presents "The Mom Show, Part 2" A 6 Show Celebratory Barnraising and Residency, NY, NY to Bellingham, WA
The Mom Show Part 2, the next incarnation of the project for Photography Dancer! The barnraising refers to the extraordinary crowdsourcing fundraiser that i conducted to fund The Mom Show in the month of November, 2013. It was a rousing success and the love, support and generosity that i was met with, opened the flow of creative connectivity with every person i interacted with in this project. The performances started in NY with a gorgeous preview at The C.O.W. and being accompanied again, by the lovely Sarah King on uke and song, and propelled me across the country to my hometown and to my mother. I mounted a month long residency in Bellingham, WA from January 1st through January 31st, 2014. The residency included a month long arc of photography, dance, street performance, and in house performance in celebration of the life and love of my mother, Kathy Brown. The two in house performances were presented at The Lightcatcher Museum and then the grand finale performance of The Mom Show, at The Firehouse Performing Arts Center where Photography Dancer! had the extraordinary pleasure of being backed by the internationally renown percussionist, Jeff Busch and his band of equally renown musicians from all over the world.
Kathy Brown has struggled with long term illnesses for many years and experienced the brink of death repeatedly and proclaims that its the love from her community of friends and family that brings her back to life every time. I went back to the beginning, went back to my mother, went back to the community that i grew up in and poured on the love for the month of January. I explored love, death, life, and connectivity. The bone deep connection between mother and child and when it is time for the child to take care of the mother in the best way she knows how. And the best way i knew how do this was through joy, laughter, dance and coming together to celebrate Kathy Brown and the incredible group of people that surround my beautiful mother with light and love.
It was the most extraordinary creative and emotional experience i've had, i am a different person now, my heart is larger, i am looser, my spirit and creative force more elastic. Photography Dancer! is at the beginning of a new creative and spiritual revolution that is propelling my project and myself into the larger world, The Mom Show, the catalyst.
Photography Dancer! presents "Our Show" A Performance Ritual Celebrating Carlos Alvarez, Willamsburg, NY
This is what happened - powerful magic happened and it was beautiful. A gorgeous, departed soul is celebrated through a community of those who loved him. A family is brought back together to honor a man and one another.
"Its soon to be four years since our soul-dancin' brother, Carlos Alvarez, has left us. It is time to celebrate and fill his missing piece with love, joy, laughter, and of course, dance. Photography Dancer! (aka sarabrown) is inviting you and any other power source person who wants to plug into the joy of this wonderful man, to participate in a performance/ritual of dance and photography to send Carlos's spirit a big shout out from his community. Photography Dancer! will be joined by Aidan O'Shea, Amy G, Anush Mirbegian, DJ Fine Wine, and Tanya Gagne in a photographic/soul getdown,/rollerskate/ trapeze shamanistic experience at Big Sky Works, sure to summon Carlos from the starstream he currently swings from to come and dance with us for a spell.
As Spectators and Participants of this ritual, please bring your boogie shoes, an open heart, and a story of Carlos that you wouldn't mind sharing. If you haven't had the pleasure of meeting Carlos, make up a story about Mr. Happy Feet and bring it, Photography Dancer! suspects he did that himself all the time…"
Photography Dancer! dirty sugar Studio Performance and Video Shoot, Bushwick, NY
Expansion, clean the space to make room to grow - concentrate, make it stronger.
What happened that night in dirty sugar space was sweet connectivity, deep and real. Photography Dancer! put out the call to her people and a special impromptu clan was formed, united in dance and laughter and glitter spectacle. Sarah King lent her uke and voice and dance, David Rogers-Berry brought his rainmaker and dance and together, tribal rhythms erupted out of nowhere. A specific power entered the room as Lydia Billings, Mitch Dean, Terrett Helm, Libby Sentz mind melded their collective dance power with Photography Dancer! and her musicians. Delicious Genius. Communal Collaboration.
The project expanded, 1100 still photographs turned into 3.5 minutes of stop-animation video, the experience transformed. David Rogers-Berry and his musical partner, Dan Sager composed an original score that melted Photography Dancer!'s heart upon first hearing it. The project widened its perspective and its documentation came into sharper focus through still and movement.
The Very 1st Photography Dancer! Bushwick Open Studios, Brooklyn, NY
Fly little bird, you've got liftoff... So much joy!
Bushwick Open Studios, one weekend, so much creative energy exploding in an amazingly productive, artistic neighborhood. Curiosity everywhere, parties on every evening rooftop, this is where its at for two days and nights and there is Photography Dancer! with the lovely Sarah King on ukelele and vocals to set the beat and a gorgeous crowd to witness and participate. And its on, its so on and the joy and laughter and rhythm fill the room and roll down the hallway into the other studios and out on the streets and the whole neighborhood gets down and gets the connection and the sun shines and sets and Photography Dancer! is complete, world saved by love of dance. With photos to prove it.